Regular price
Sale price
$9.99 USD
Unit price
per
Sale
Sold out
Drive around supporting everyone's new favorite power couple, with our In My Era's Collection signature car diffuser scents while making your car smell amazing! 

Our scented Car Diffusers are handmade using high-quality fragrance oils—free of parabens and phthalates and provide a non-toxic and eco-friendly way to refresh your car, home, or anywhere you want to add a little fragrance on the go. 
Diffusers can last 60+ days depending on how often you refresh or strengthen your scent and are reusable and refillable up to 3 times.
Available for a limited time in: 
In My Chiefs Era - Smells like Mahomes and Kelce (A unisex scent with notes of citrus, sage, lavender, and amber)


In My Traylor Era - Smells like I can still make the whole place Shimmer (A sweet citrusy scent with notes of Grapefruit, bergamot, lemon, and mint)


In My Kelce Era - Smells like I miss you, but I miss sparkling (A bright bubbly and fruity scent with notes of champagne, lemon + orange peel, grapefruit, and peach)
NOTE:
Please read the instructions and safety tips below and also provided with your car diffuser prior to use. 
Scent Options

Our Car Diffusers are available in the following scents:

Fresh Bamboo: bamboo, green leaves, aloe

A very light and calming fragrance with sweet green notes

Island Getaway: coconut, rum, citrus, pineapple

An explosion of tropical fruits and rum, this scent will remind you of your favorite fruity drink on your island vacation

Sandalwood + Citrus: sandalwood, amber, citrus, mango, cedar

A bright citrus fragrance balanced by a base of sandalwood and amber

Malibu Cindy: coconut, rum, citrus, pineapple

An explosion of tropical fruits and rum, this scent will remind you of your favorite fruity drink on your island vacation 

Stress Relief: lavender, eucalyptus, powder

The blend of lavender and eucalyptus make this scent truly relaxing and soothing.

Sea Salt + Citrus: sea salt, citrus, jasmine, ozone

Bring the warm, salty scents of the ocean home with our Sea Salt + Citrus scent

Self-Care: peppermint, eucalyptus, cedar, vanilla

A blend of sweet peppermint with earthy eucalyptus make this a refreshing and calming scent

Spa Day: white tea, ginger, citrus

Like a day at the Spa, this aromatic scent features top notes of mandarin and lemongrass amplified by mid notes of bergamot and ginger set on a base of white tea and jasmine

Enchanted: cherry blossom, peach, hydrangea

The ultimate blend of fruit and floral, with top notes of apple, luscious peach, and ripe grapefruit that give way to beautiful middle notes of cherry blossom and hydrangea

Beach Glow: coconut milk, citrus, amber, palm

A rich heart of coconut milk and warm amber unfurls with citrus and palm top notes to create the perfect beach inspired scent

Island Dreams: green florals, green leaves, powder, agave

A base of powder and violet with mid notes of green leaves and floral with top notes of lime, agave, and honeydew

Beach Linen: cotton, linen, powder

Cotton linen and powder give this scent a clean line dried laundry blowing in a seaside breeze kind of vibe.

Cozy Campfire: marshmallow, sugar, smoke

Reminiscent to roasting marshmallows around a bonfire in the Fall.

Amber + Sage: Citrus, sage, lavender, amber

Elegant and captivating, this scent will appeal to both masculine and feminine senses.

It's Fall Y'all: apple, cinnamon, nutmeg

Fresh apple cider with notes of cinnamon and nutmeg make this the perfect fall scent.

Autumn Glow: apple, pecan, cedar

Sweet, earthy and inviting, this one will become your new favorite.
Details

Volume: 8 ml
Lasts: 60+ Days
Fragrance: Premium Fragrances & Essential Oils
Non-Toxic: Free from Dyes, Parabens, and Phthalates
Reusable & Recyclable
Eco-Friendly
Cruelty Free
Ingredients

Our diffusers are hand crafted in small batches using high-quality fragrance oils free of phthalates. Our commitment to quality is reflected in products that are safe for you, your home, family, and the environment. When you purchase Sustainable Grace products, you can be sure you're getting a clean, toxin-free diffuser that smells amazing.
How to Use Your Car Diffuser

Unscrew wooden lid and remove plastic stopper
Screw the wood lid back on and tilt the diffuser upside down for no more than 3 seconds to allow the fragrance to absorb into the wooden lid
Unscrew wooden lid and replace plastic stopper to prevent spillage
Replace wooden lid and hang diffuser in your car, boat, RV, or home
Repeat steps when scent fades or to increase the strength of the fragrance


NOTE: Please review diffuser instructions and safety tips provided with purchase prior to use.

Sustainable Grace is not liable for any damage caused by spillages.
Car Diffuser Safety Tips

Do not over saturate the wooden lid or rope
Do not tip bottle upside down for more than 5 seconds to prevent leakage
Replace the plastic stopper to prevent spillage
Do not hang car diffuser from your gear shifter, windshield wiper or turn signal
Avoid contact with vinyl, fabrics and leather
Wipe up all spills immediately
Always follow instructions provided
Use product only as directed
Keep diffuser out of reach of children and pets
Avoid contact with eyes, face and textiles

Sustainable Grace is not liable for any damage caused by spillages.
Shipping

Orders are processed within 1-3 business days and ship free when you spend $75 or more.
Disclaimer

Because of the handmade natural of our products, items may have some slight imperfections. None of these impact the quality of the candle.

Notice: Copyright, All Rights Reseved. All photos on this website are subject to copyright and not to be used, manipulated, distributed or reposted to any site without expressed written permission. All words, candle label designs, and logo posted on this website are subject to copyright and are not to be used, or reposted to any other site.
Share
View full details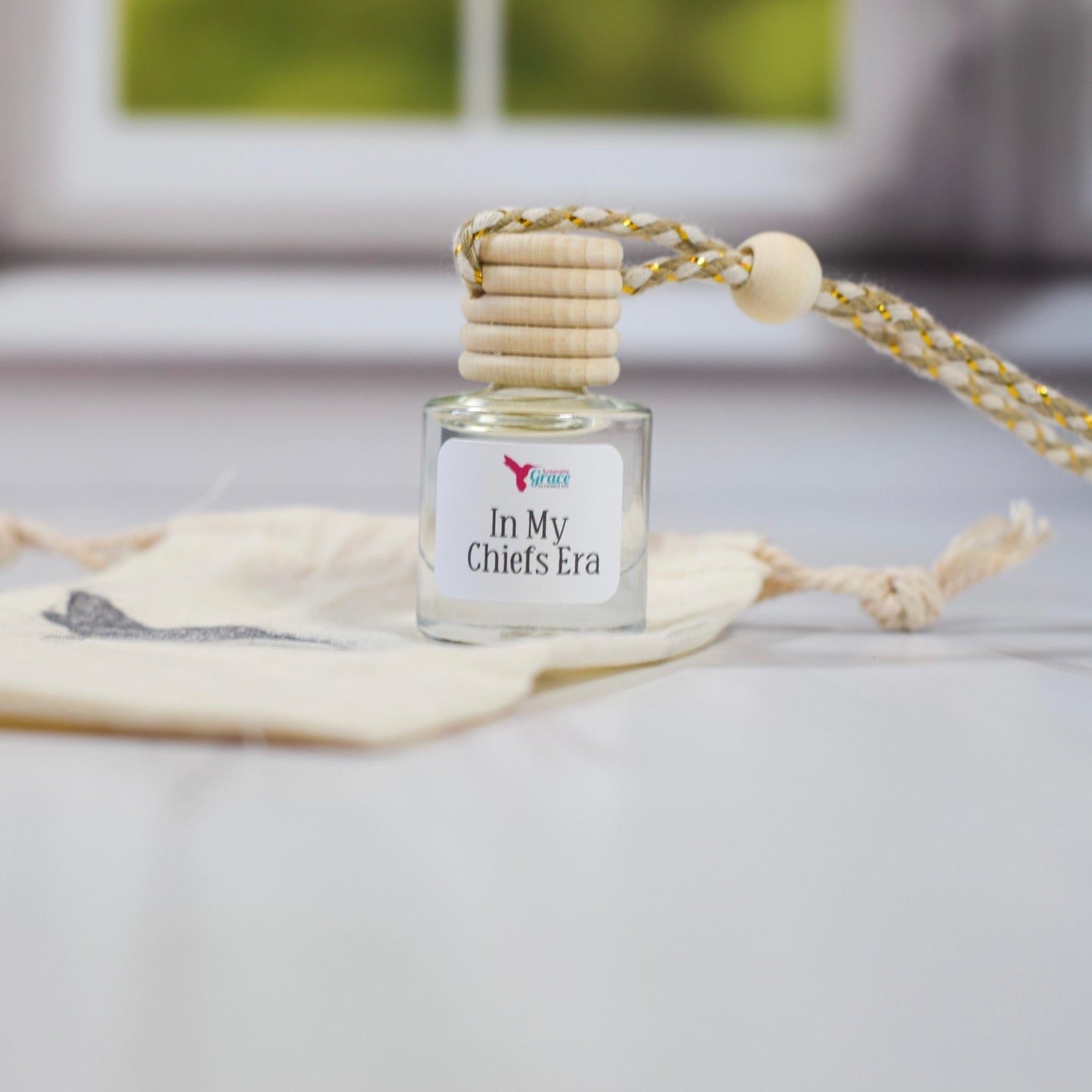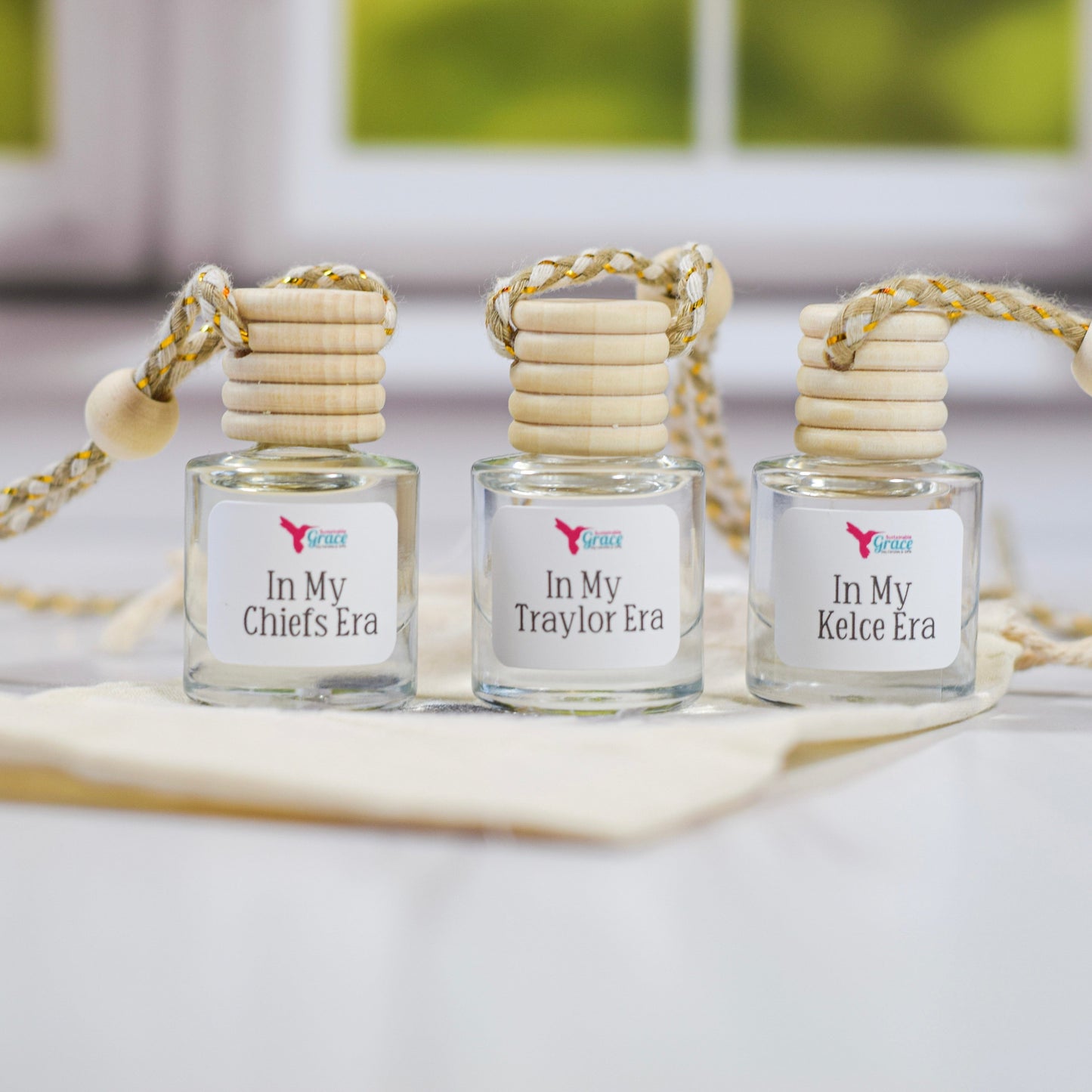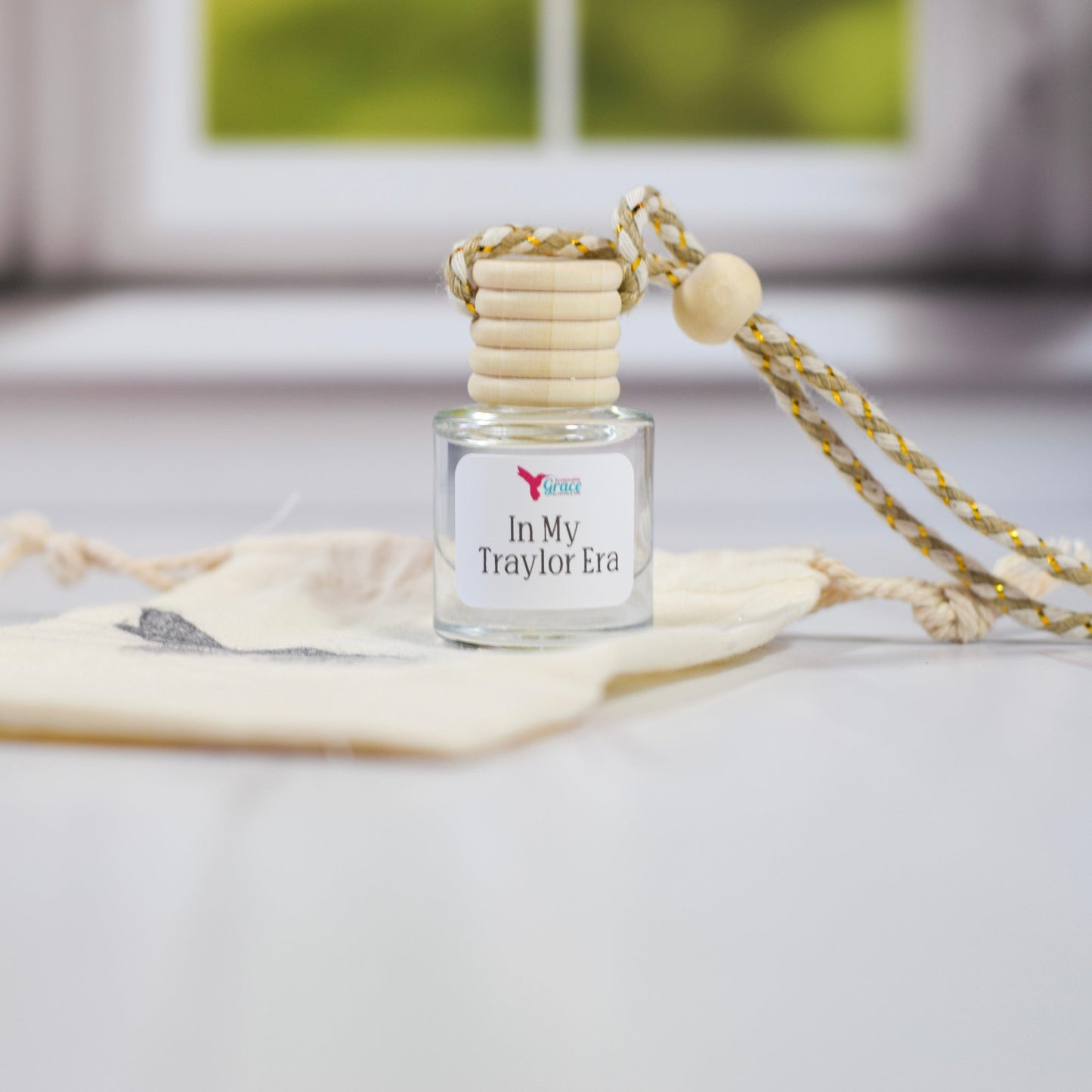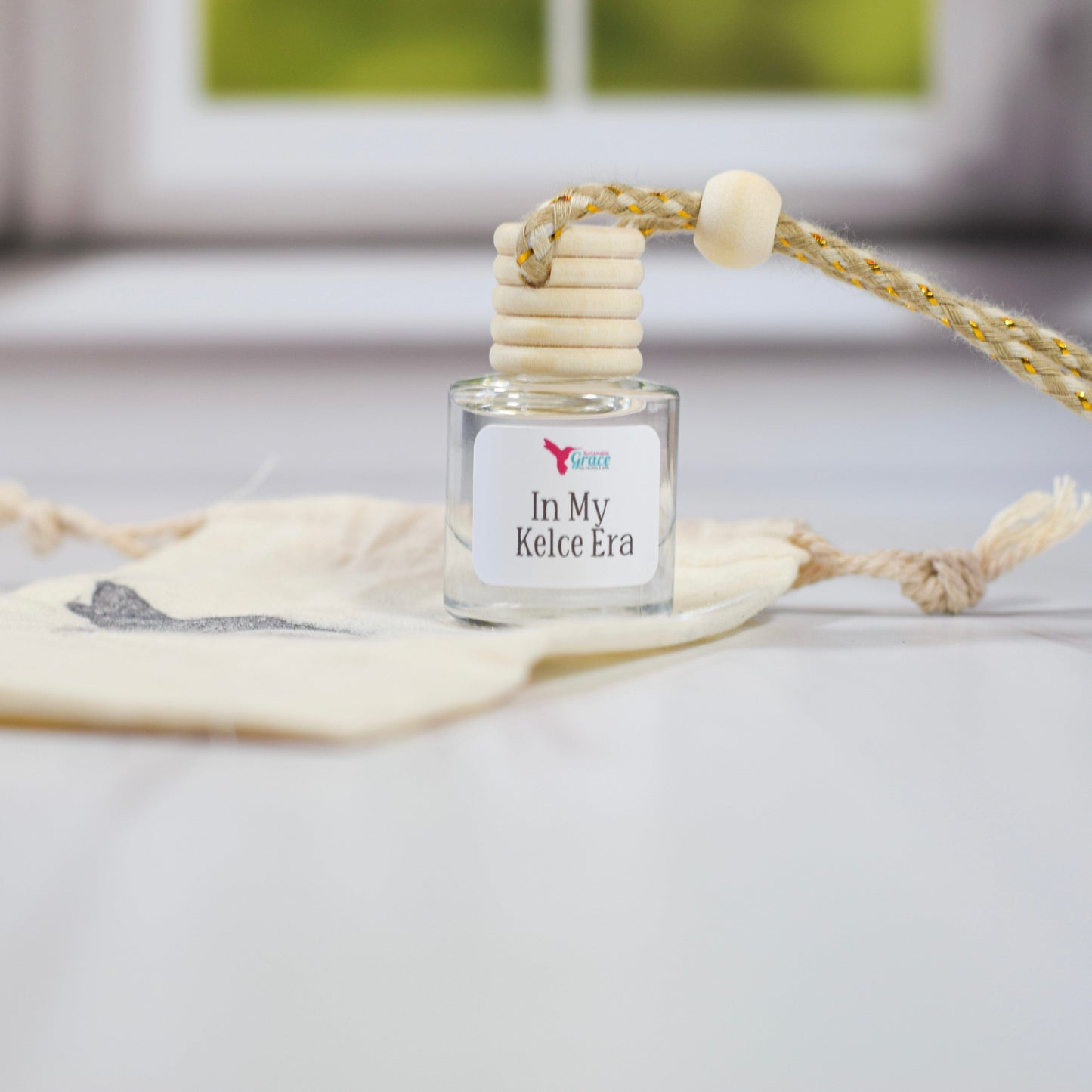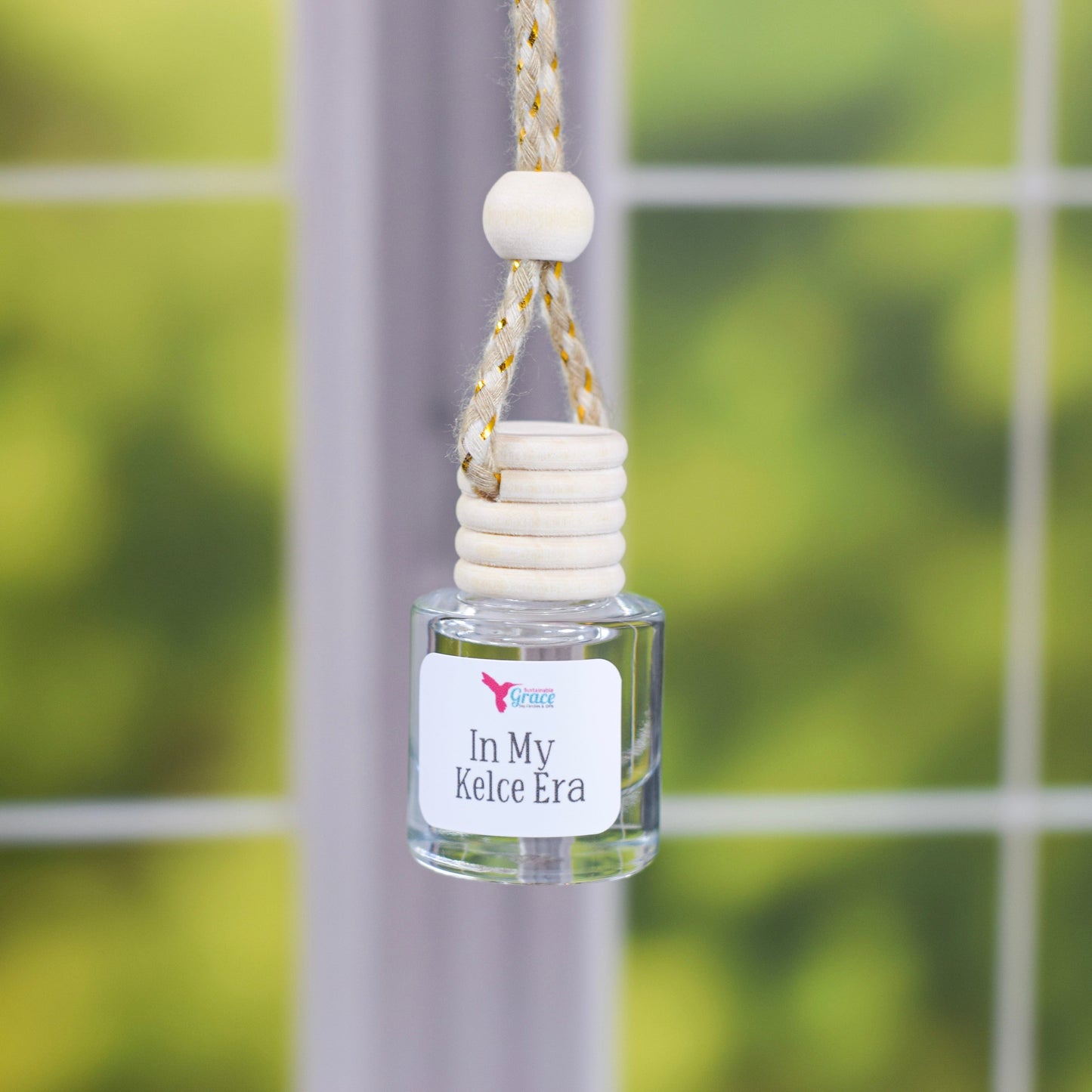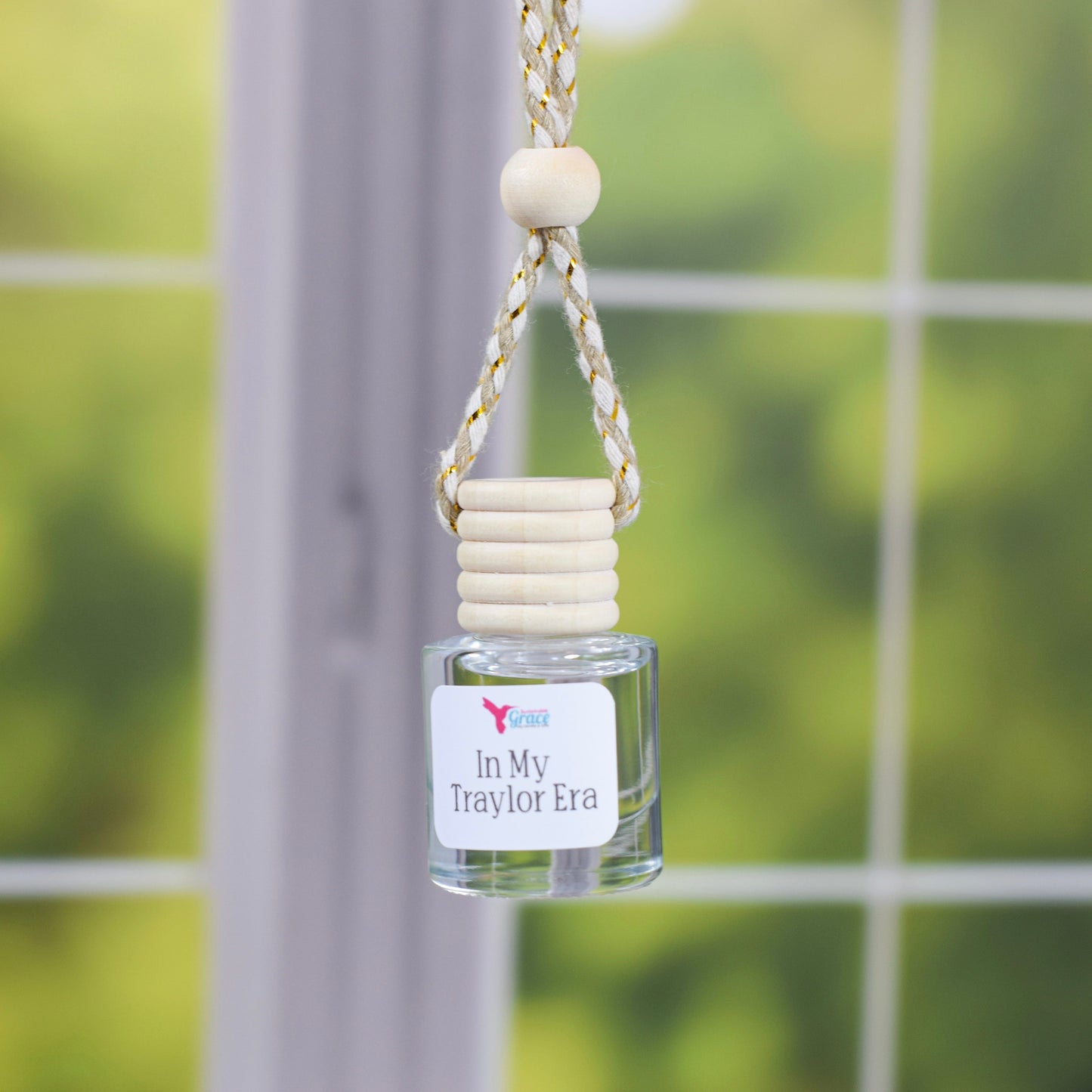 Handmade

Phthalate Free

Recyclable

Eco-Friendly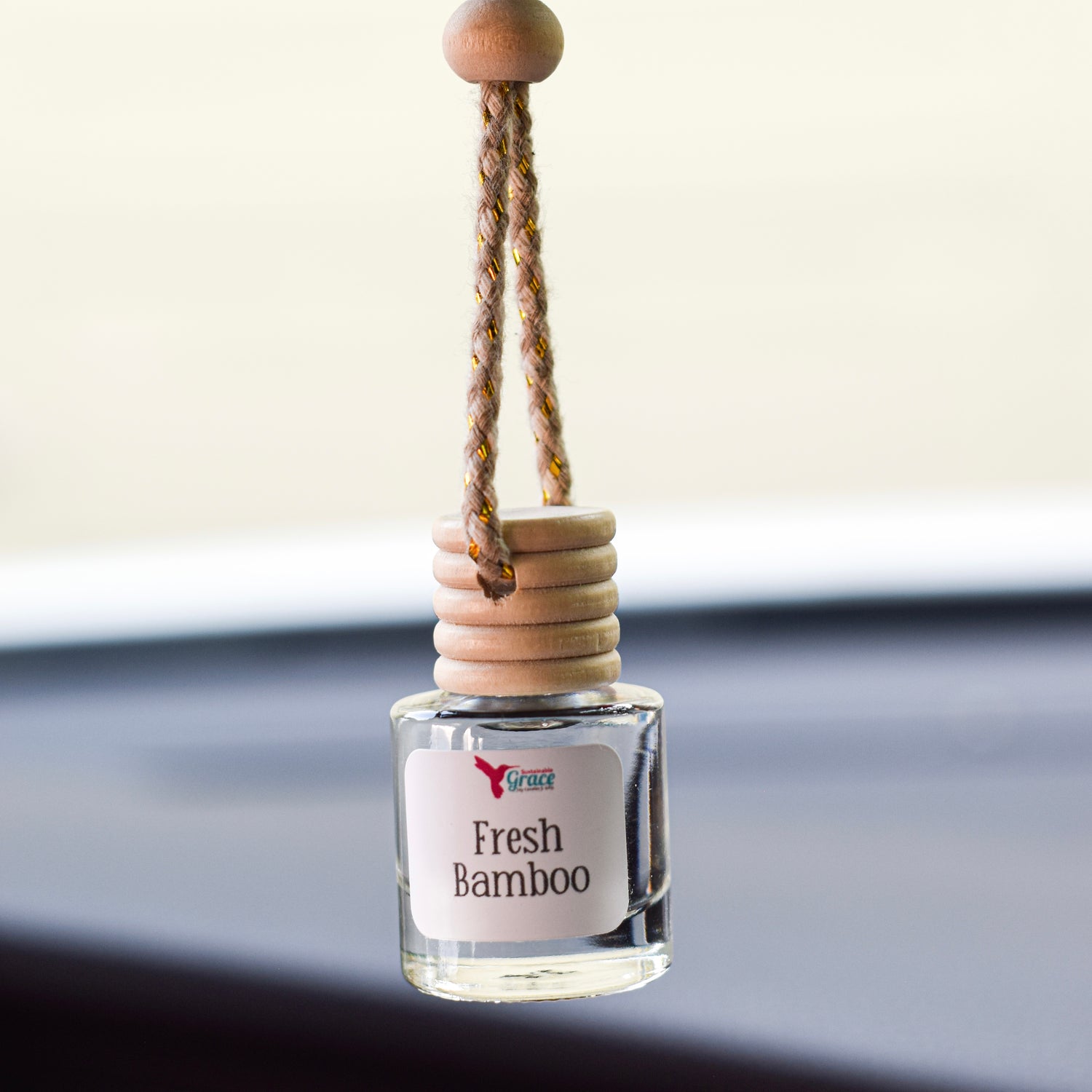 Your New Favorite Car Freshener
A Non-Toxic Way to Refresh Your Car, Home, Boat or RV
Handmade with high-quality fragrance oils, our air fresheners are a non-toxic and safe way to freshen up your car, home, boat or RV and enjoy some of your favorite Sustainable Grace fragrances on the go.
BENEFITS OF CAR DIFFUSERS
Non-Toxic

Unlike traditional car air fresheners that use synthetic fragrances containing toxic chemicals, our diffusers are handmade using high-quality fragrances and essential oils free from phthalates.

Eco-Friendly

Made from glass and bamboo our diffusers are recyclable and can be reused up to three times with one of our refill kits—providing much less waste than traditional car air fresheners.

Aromatherapy

Not only do our car diffusers refresh your car, boat, home or RV with a lovely scent but some of our fragrance oils contain essential oils that provide a relaxing and calming atmosphere.
In My Chiefs Era Air Freshener
This is the second air freshener scent in the line that I have tried. It is a crisp, clean scent that I think the men in your life would enjoy, especially those in Chiefs Kingdom.
GO CHIEFS!